Blog – Jessica and Jess' Summer Love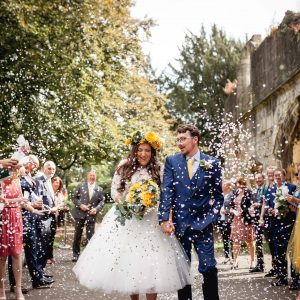 So how did it happen? Tell us your engagement story!
We got engaged 5 years ago and although it was nothing special, it was perfect for us. One morning Jess woke up early to head to work, and decided that this would be the moment to pop the question. He woke me up, in my half sleep state and said: I want to wake up like this for the rest of my life, will you marry me? I obviously said yes and then rolled over and went back to sleep, whilst he went off to work!
Why did you choose the Hospitium for your special day?
With making Yorkshire our new home, we wanted to choose a wedding location that our family and friends could see where we had sealed. We walked past museum gardens on the way to work every day and choosing somewhere surrounded by beauty and history was important to us. Plus the Hospitium is dreamy looking on the inside also!
Did you pick a theme or have a vision for your day?
We just wanted something natural with a light summery feel – hence all the yellows and golds!
Onto the flowers! Who did your flowers and what style did you go for?
We made the flowers ourselves! The bridesmaids created their own bouquets in a fun wedding themed weekend (something we wanted them to treasure years to come). And as a creative bride I got stuck-in in making my bouquet, headpiece and the table centrepieces quite early on in the planning. We used a mixture of roses, gypsophilia, eucalyptus and succulents to create a rustic earthy theme….The family didn't believe that they were artificial flowers! And we have them now displayed around the home, for pops of colour!
Tell us about the dress!
We went to several different boutiques as a bridal party, but it was WED2B in Leeds where I felt the most comfortable. The staff were very helpful in the whole process, and I got each of my bridesmaids to pick out a dress that they would like to see me in (our tastes were all very different!) It helped me to figure out what styles I liked and what I really didn't. I hadn't fallen in love with anything in particular, however one dress had potential. It wasn't until a few days later, after flicking through the photos we took, that I desperately wanted to see the same dress again. I went straight back to WED2B on my own this time, re-tried the dress on, discussing my alterations and swiftly made my purchase! They then recommended me an amazing seamstress who turned my ballgown into a beautiful tea-length frock perfect for dancing in – I still have the bags of fabric to remind me how long the train originally was!
What did the groomsmen wear?
Our three groomsmen wore matching navy burton 3 piece suits – simple yet effective, and perfect for contrasting our yellow flowered theme! Each groomsman had a sunflower yellow Te from James Alexander Ties and a home-made buttonhole incorporating a mini white rose, succulent and gypsophilia to match the brides bouquet.
What did the bridesmaids wear?
The bridesmaids dresses were probably the first item I search for and decided on, when we first booked our wedding date with the Hospitium. As we had chosen a spring summer wedding day, we wanted something comfy and light to wear and I came across an infinity wrap dress on Etsy which was the perfect colour and allowed each of my bridesmaids to dress the bodice in the way they most felt comfortable. Once they had arrived and had been tried on we felt they needed an extra touch of tulle – which we added ourselves to the in the dress styles to the wedding gown! They keep asking when we will arrange an anniversary party so that they can re-wear them – so it must be a win!
What were your wedding rings like?
When we got engaged 5 years ago we picked an engagement ring together from HS Samuels which came with a perfect fit wedding band (luckily this was stored away safety until the wedding and took the pressure off!). For the grooms band we chose something a lot more durable due to the nature of his work – the Cobalt band might not be made of gold but certainly has a beautiful finish, and with peace of mind!
Did you have any special jewellery or accessories on the day?
On the day I wore a necklace bearing 'the heart of Yorkshire' pendant (for those who don't know – this is the emblem of the heart shaped window featured in York's Minster. The story goes that if a couple kiss beneath the window then their love will last forever! A fitting lucky charm!) I also pinned a broach to my bouquet from my grandma who couldn't be with us for the day due to old age and the current Covid complications.
Who did your hair and makeup?
My most amazing friend and work colleague: Kasey Richens, did my hair and make up for me on the day – another solid choice from the moment the date was booked. I knew I wanted a floral head piece and Kasey helped me to envision the look I was going for and bring it to life! I don't tend to wear much make up so she kept me looking like me, but with a bit more sparkle! Kasey also styled all of our bridesmaids hair, adding in the combs we had made, and accommodating for their very varying hair textures!
Did you have favours on the day? If so, what did you go for?
The favours we chose were mini bottles of limoncello and raspberry liquor – tying in a small tradition that our friendship group had introduced several years earlier (a shot of limoncello on the wedding day). We're also not a massive fan of bubbly so we used the favours for our toasts!
Who was your photographer and why did you choose them?
We met our photographer Jordan Wade through a friend. He was down to earth, had a good portfolio and made us feel at ease. We don't really take many photos of ourselves, but we think he caught our day perfectly!
How was the run-up to the big day? Any nerves?
With Covid taking over the world and our original wedding day being cancelled, being nervous was an understatement. Up until September it felt like we were living in a perpetual state of stress, not knowing what to plan for. In the final weeks leading up to the wedding we realised: what would be, would be. As long as we COULD get married we would be happy whatever the circumstances (we'd already spent 10 amazing years together) On the day there was no nerves, just joy (well for the Bride anyways) the Groom almost forgot the rings!
Tell us about the ceremony and reception décor…
The ceremony was interesting and different considering the Covid circumstances. Instead of our 50 original guests we had to streamline to under 30 family members (which was hard as we both come from big families!) these guests were then spread out into the household bubbles. Despite the new layout the family said it didn't detract from the loving and beautiful atmosphere in Hospitium. We chose minimal decor in the end as we wanted to get out and enjoy the gardens and sunshine (mask free!) Opting for the fairy lights on the pillars, chair covers with golden sashes and a simple ceremony display of artificial flowers and candles. The ceremony went by in the blink of an eye and we couldn't wait to have our first kiss being married!
Who can forget the food, tell us what you went for?
If we were able to have the meal at the Hospitium I'm sure it would have been amazing (as the tasting evening really was!) due to the current Covid restrictions we decided to have a picnic spread back at home.
Did you have a standout moment?
It's hard to pin point a particular moment as all of it amounted to a wonderful day!