York Hospitium Open Day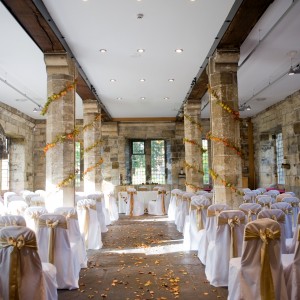 A chance to come and see the beautiful Hospitium and meet the wedding team!
One of the most beautiful wedding venues in York will open its doors to future brides and grooms next month.
Set in the stunning surroundings of York Museum Gardens, the Hospitium, will be set up and dressed so couples can begin to imagine how it may look on their special day.
The venue will be open from 11am to 3pm on Sunday October 21 and the friendly weddings team will be on hand to show you around the venue and answer any questions you may have.
The event is free and there is no need to book to visit. However you can reserve a show round by phoning 01904 687671 or emailing york.venues@ymt.org.uk
Jennifer Chadwick, wedding and events manager, said: "If you're looking for the perfect wedding venue or have already book with us, this is a great chance to come and see the beautiful Hospitium dressed at it could be for your big day. Whether you are just beginning your search or deciding on your final details, our dedicated weddings team will be here to give you a warm welcome and to answer any queries you have."
All profits raised through weddings at the Hospitium are used to care for the collections and buildings of looked after by the charity York Museums Trust. For more information go to www.yorkvenues.org.uk