The Hospitium Praised for its Commitment to Accessibility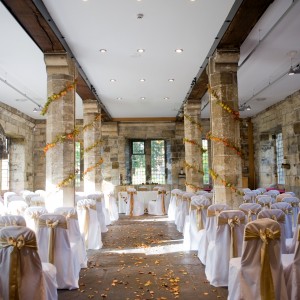 One of York's most popular wedding venues has been praised for its commitment to accessibility in an article on a leading weddings blog.
The Hospitium in York Museum Gardens was put forward for an article on accessible weddings by Bethan, who married her husband Ash at the venue last year.
Bethan lives with Pots Syndrome, which causes extreme fatigue and leads her to use a wheelchair to help her get around. In the article on nubride.com, Bethan praises the lengths The Hospitium staff went to to make sure she had the perfect day.
She said: "Our wedding venue The Hospitium in York went above and beyond to help make my day special. Also I had a very understanding photographer, Craig at Mr and Mrs Wedding Photography, who adapted to me sitting and standing very well. He was very professional and made me feel so comfortable in front of the camera."
She added that the Hosptium staff "couldn't do enough for us and made extra precautions for me such as extra chairs, space for my chair just in case it was needed, they had ramps and lifts it was amazing! Just being reassured and having "Plan B" in case I needed help was wonderful."
Jennifer Chadwick, Wedding and Events Manager, said: "We are delighted that Bethan felt she had a fantastic wedding and has given us such glowing feedback in the blog.
"We pride ourselves on making sure every wedding at The Hospitium is perfect and we know that listening and understanding the needs of our couples and their guests is key to this. We have invested in the necessary features which have made this Grade One listed, 14th Century building much more accessible while maintaining the key features which make it such a beautiful space to get married."
To come and see the building and meet the dedicated venues team, please get in touch by emailing yorkvenues@ymt.org.uk or phoning 01904 687 671.