Blog – Rachel & Bobby Eaton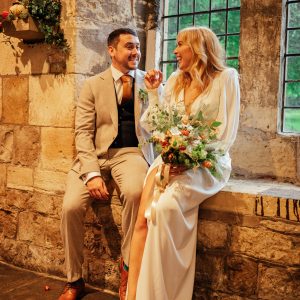 When was your wedding?
3rd October 2020
So how did it happen? Tell us your engagement story
We were on holiday in 2018 in Bruges and had a conversation coupled with some Belgium beer, and decided we should get married!
Why did you choose the Hospitium for your special day?
York is our favourite place, we looked at one other venue before this and as soon as we stepped inside we knew the Hospitium was right. In central York and with such a beautiful surrounding in the museum gardens, we felt l like we found a hidden gem and couldn't believe it was a venue we were able to get married in!
Not only is it a beautiful place, the wedding planners Jessica and Claire were amazing. So efficient, kind – extremely good at what they do.
Did you pick a theme or have a vision for your day?
Autumnal theme.
Onto the flowers! Who did your flowers and what style did you go for?
i-bloom. They were amazing, beautiful and exactly what we asked for. A really natural autumn theme bringing the outdoors indoors. Very progressive business and very talented florists. Everyone commented on the flowers. Highly recommend.
Tell us about the dress!
I found Bridal shops intimidating and so basically just brought a non bridal dress online after some browsing.
What did the groomsmen wear?
Suits from Moss Bros, oatmeal colour and blue waistcoat for the groom.
What did the bridesmaids wear?
Yellow satin dresses from H&M.
Who did your hair and makeup?
I did, with my sister's help! I didn't want to look too different and I was happy with the end result and I felt like me. I should note that I had to make this choice because of Coronavirus restrictions.
Who was your photographer and why did you choose them?
Alice Lodge, after looking online her website stood out. We wanted natural happy pictures and we certainty got that. The colours in her pictures really stand out and each couples pictures are unique. She is also the loveliest person, we laughed the whole time we were having our photos taken.
How was the run-up to the big day? Any nerves?
Lots of nerves and in our case, quite a lot of stress! The last minute change to the rules meant we had to cut our guest list in half. We were most nervous about the wedding not being able to happen due to Coronavirus. Each time we phoned the venue and the caterers we felt reassured and at ease.
It also didn't help that I fell off my bike and sprained my foot just before the wedding meaning I could barely walk!
Jessica, Claire and the lovely registrars helped calm our nerves throughout planning and on the day.
Tell us about the ceremony and reception décor…
Autumn theme, squash/pumpkins and golden colours, with orange and greens. Lots of autumn leaves everywhere! We had Belgium beer bottles filled with flowers and wooden table centrepieces. Claire, Jessica and i-bloom florists worked their magic on the décor and my jaw dropped when I walked in!
What about the music?
We created a playlist ourselves of all of our favourite music, Jessica & Claire organised the logistics of how it was played and it worked really well.
Who can forget the food, tell us what you went for?
Bradshaws, the food was incredible, and caterers were exceptional. In the run up the numbers needed to changed and they continued to be flexible. I love food and cooking so the food was really important too me. It felt more like having a great meal in a restaurant than a wedding meal. If food is important to you, I highly recommend Bradshaw's.
Did you have a standout moment?
The thing that we remember most from the day was everyone's kindness who helped make it happen and it felt very special for that reason. Each supplier, the caterers, photographer, florists and venue staff went out of their way to be flexible, and make our wedding happen against the odds and despite the difficulties. We will always be grateful to everyone who made it happen.
We just wanted to be married and decided that however we could have the wedding we would have it. We wouldn't change a thing.