Blog – A Halloween Happily Ever After for Alexandra & Jack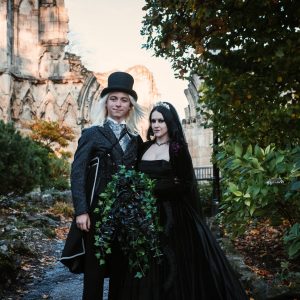 So how did it happen? Tell us your engagement story!

We both knew we wanted to get married – we had been talking about it for a while. I hinted at proposing to Jack but he insisted he wanted to propose to me, and was waiting for the right moment. He booked a surprise trip to Paris where we visited the Louvre, the Eiffel Tower, Notre Dame, one of the top 10 most romantic restaurants in Europe and Disneyland all in less than 4 days! I've always said to him I would prefer a very personal proposal, I would feel too under pressure with something too flashy in front of a crowd of people, and I was worried he would do it in one of those locations. However on the night before our last, we stayed in a castle, and after a meal and a lovely walk under the stars, we went back to the hotel room. After organising it with the hotel staff, Jack had prepared a traditional Pagan engagement ritual using wine in the hotel room (I am Pagan and my religion is quite important to me), and he did it beautifully. On the moment he asked the question, I told him to wait a second before he answered, and then I pulled a ring out of my handbag and proposed back to him, so we essentially said yes to each other at the same time. As a feminist I'm not a big believer in patriarchal traditions in relationships, so doing this together on an equal level felt just right.
Why did you choose the Hospitium for your special day?
I came for a conference with work back in 2018, a few months before I had even got engaged. I work in the museum sector so I am familiar with York Museums Trust but I had never been in the Hospitium before. I absolutely fell in love with the building and I just remember thinking 'yes, this is my wedding venue' and I began stuffing venue leaflets into my handbag from the toilets! I also absolutely loved the buffet that Bradshaws had put on that day. When we had actually got engaged I brought Jack with me to look around and he didn't take much convincing; we booked pretty much straight away, and I never had to look at any other venues.
Did you pick a theme or have a vision for your day?
I am very gothic so I didn't want the traditional 'white wedding' – that would never have been me. We opted to get married on the Pagan festival of Samhain which represents a time of new beginnings and when the spirits of our ancestors are closest to us, which we thought was appropriate. To most people this is known as Halloween, so we incorporated this into our theme with our decorations. Due to the location and age of the building we were going for a sort of 'ancient enchanted forest' look, although our outfits were quite historically inspired. It was like our own fairy-tale!
Onto the flowers! Who did your flowers and what style did you go for?
We didn't have any flowers as decoration, because we wanted the emphasis to be on the beautiful old building, and we thought too many flowers might modernise the look too much. The only flowers we had were my bouquet which was made from synthetic ivy, black roses and lilies, and then my maid of honour's bouquet which was just the lilies. Everyone also had the black lilies as button hole pins too. The flowers were all from Amazon, and the ivy was from The Range! My mum made all of these herself, and she even hid my childhood toy in my bouquet so that he could be with me too as a surprise.
Tell us about the dress!
Since I was a little girl I always knew I would be getting married in black. It wouldn't be me if I didn't. My mum, my sister and I looked at several options online, but we didn't want to spend wedding dress shop prices. We ordered a black velvet and lace dress from Punk Rave, a gothic fashion retailer. It was only £110 and was such good quality as well! I didn't need to try on anymore as I loved my first option. I put a hoop underskirt underneath to make it into more of a ball-gown, and I paired it with a black velvet bolero that I found on Facebook Marketplace for £5. After some time debating about what length veil I wanted, I ordered one from Ebay for £8 on the week of the wedding, and thankfully it matched really well!
What did the groomsmen wear?
The groom wore a white wingtip shirt with a black horseshoe waistcoat, along with steel-detailed patent shoes I bought him for our anniversary, a hat he bought at Whitby Goth Weekend, a lovely silver cravat and a tailored Jacquard tailcoat from Shrine of Hollywood. He also had a custom half-cape made from Etsy which was lovely. He wears nice suits as his everyday fashion sense, so for his wedding he basically needed it to be very 'extra'. The best man wore a plain shirt and trousers paired with a black blazer with brocaded pattern matching the groom's tailcoat. He also had a textured silver bow tie, matching nicely to the groom's cravat. Unfortunately due to Covid-19 and guest number restrictions we couldn't have our groomsmen there, who were originally going to be wearing green velvet blazers.
What did the bridesmaids wear?
Again, unfortunately due to the pandemic I couldn't have all my bridesmaids there, who would have been in ankle-length green velvet dresses which had been altered to all have different custom floaty sleeves. Instead my Maid of Honour wore a glittery silver A-line dress with a side-split skirt and V-neckline from Ever-Pretty, which looked lovely. She paired it with our great-great grandma's necklace and a pearl sparkly headband.
What were your wedding rings like?
We didn't actually use wedding rings at the venue, because we opted to give them to each other under the full moon at midnight instead. Our rings are matching silver bands with Celtic knot patterns all the way around, and inscribed inside is 'Blessed Be'. In Paganism we use that term a lot, which is the equivalent to phrases such as 'good luck', 'bless you', 'be blessed' etc. The rings are from My Irish Jeweler.
Did you have any special jewellery or accessories on the day?
My something borrowed was my Whitby Jet earrings from my Aunty Tracey, who couldn't be there due to the restrictions. I currently have them on 'long-term loan' from her as she doesn't really wear jewellery. My necklace is from a jewellery shop called 'Dixi' which I had my eye on for a long time after I saw my favourite singer (Amy Lee) wearing one in a photo. It is a gunmetal choker in the style of tree branches, with an opal in the middle, which I bought in a Black Friday sale a few years ago. My mum bought my silver tiara from Etsy, which is in the style of leaves with a little opal in the middle which matches nicely. I also kept my engagement ring on all day, which belonged to my great-grandma; my great-grandad bought it from Ireland during WWII. The groom also kept his engagement ring on. He also wore a locket which I had got him as a wedding gift; he opened it that morning. The locket was in the shape of a full moon and had photos of his grandparents and his aunty and uncle in from their wedding days. They financially contributed to the wedding but unfortunately passed away before they could see it; I know he would have wanted them here, so this was a way they sort of could be.
Who did your hair and makeup?
My cousin Rachel Charlton did my make-up on the day; she did make-up at college and is now adding to her portfolio as a Make-Up Artist. She did my maid of honour's make-up and my friend's make-up too, which all looked great. My maid of honour who is my sister did my hair. She isn't a professional stylist but she has always been good with hair. She did my hair for prom so it was like a nice nostalgic feeling when she did it for the wedding.
Did you have favours on the day? If so, what did you go for?
I really love Alice in Wonderland; it is my favourite story from growing up and even now. The favours were teacups for everybody with attached tags that said 'drink me' on them. Each teacup was unique as we collected them from charity shops. Bradshaws served tea and chocolate after the wedding breakfast, so it was easy for the teacups to be used at this point in the day, and then everybody could take them home afterwards.
Who was your photographer and why did you choose them?
My photographer was my friend Molly. We chose her because I've always wanted to support my friends in their businesses, careers, hobbies or other ambitious ventures, so I chose to support Molly with her photography work. We did the same for our videographer Scott. I think Scott was one of the first things we chose about the wedding; Scott and I became friends, both being filmmakers and working together on films in the past. He now does a lot of professional corporate videography. There was no doubt that we wanted him to be involved, particularly because we love his cinematography style.
How was the run-up to the big day? Any nerves?
The run up was incredibly stressful. We never got nervous about actually getting married, and we seemed to get everything we wanted in good time. However the pandemic really got in the way! The restrictions were constantly changing; we had to cut our guest list about 3 times from 150 to only 15 in the end, and with the rumours of a second lockdown looming it seemed like a state of constant anxiety. We had chosen our date specifically because it was a full blue moon on 31st October on a Saturday, which hasn't happened since 1944, so we really didn't want to postpone or cancel! Luckily, we managed to get our day in before the second lockdown in early November.
Tell us about the ceremony and reception décor…
For the ceremony we wanted to keep the décor very minimal and simple, so that the focus could still be on the beautiful old stone walls, pillars and big windows. We added battery-operated candles which flickered down the sides of the aisle to give it that extra 'mystical old building' vibe, and then added a silver table cloth with black table runner and candle sticks to the registrar's table, so that it was more in keeping with the theme.
For the wedding breakfast reception we went with more of the Halloween theme; the table cloths were black and our centre pieces had black sparkly pumpkins with skulls and ravens on them. The log slices which they sat on, along with the red and orange leaves, added to the 'autumnal forest' feeling too.
My mum had a special centre piece commissioned for our table, which was a 'mouse in the house' sculpture by Kathryn Ashcroft, which had mouse versions of Jack and I in our wedding outfits surrounded by mouse bridesmaids and pumpkins. We met Kathryn at a craft fair close to our house when we got engaged, which is when my mum first got the idea for the commission.
What about the music?
It took us a while to decide the music, but one thing I was always sure of was my first dance song,
which is 'You' by Evanescence. For a start it is my favourite band but I cry every time I hear it as all I can picture is our relationship. I think it worked really well. For walking down the aisle we knew we wanted something that might fit the theme, so we started listening to lots of music by Danny Elfman who does the soundtracks to many of Tim Burton's films. We listened to Ice Dance from Edward Scissorhands (a film I adore) and we knew it was the one. For signing the register we went with 'One Summer's Day' by Joe Hisaishi from the Spirited Away soundtrack. We both love films by Hayao Miyazaki so that was nice. We walked out to the Addams Family theme tune. It had to be in there somewhere. Some of our friends refer to us as Gomez and Morticia because Jack is a professional fencer who wears suits and I am simply a goth lady who loves witchcraft, art and plants. The music for guests arriving was mostly violin covers of some of our favourite film, TV and video game soundtracks and the track list for the wedding breakfast was mostly a compilation of songs by one of our favourite artists – Damh the Bard.
Who can forget the food, tell us what you went for?
The food was amazing – we originally went for a tasting session to decide on our wedding breakfast options. We gave our guests a meat option of salmon with Asian salad for starters, chicken with parma ham for main and chocolate and caramel delice for dessert, or a vegan option of chickpea and onion bhaji pancake for starter, sweet potato and squash filo parcel for main and vegan sticky toffee pudding for dessert. When I first visited the Hospitium with work I fell in love with the brie and cranberry filo baskets that were on the buffet, but we couldn't have an evening reception with buffet any more due to the pandemic. Bradshaws let me have these filo baskets as canapes instead and I was over the moon!
For drinks we wanted something a bit different to the conventional champagne/prosecco, so we opted for Kir Royale at the drinks reception, assorted wine for the meal and then Bradshaws kindly sourced us some mead for the toast. This was important to us as mead is traditional in Paganism as a celebratory drink, and also because that's where the word 'honeymoon' comes from (a month of drinking mead for newlyweds). Our guests complimented the food and drink a lot. (Thank you Bradshaws!)
Did you have a standout moment?
There were lots of stand-out moments. The main one is obviously seeing each other for the first time from across the aisle; I think that was the happiest. Jack was so stunned he forgot to take his mask off ready for the ceremony (his words not mine)! At the wedding breakfast, I took a moment to just sit and take everything in; that's when the day actually hit me properly and that was the nicest feeling. A special mention goes to the Maid of Honour's speech; my sister wrote a cover song with the help of her musical friends which told the story of us growing up together, and paired this with home video clips of us both over the years, which perfectly fit the song. She and I are the best of friends (we are only a year apart in age) and it got the biggest emotional cry of the day.